Sodium Ferrocyanide
Applications
Production of Ferricyanide, blue pigments(Iron blues), blue print paper, as 'anti-caking agent' for salt (Nacl), for flotation of ores, pickling of metals, polymerization catalyst, photograph fixing agent, in electroplating industry, food additive, for fermentation processes of fruit acids (citric acid, tartaric acid etc.), as gelating agent for removal of heavy metal traces (Fe++ in general), in pharmaceutical/chemical industry.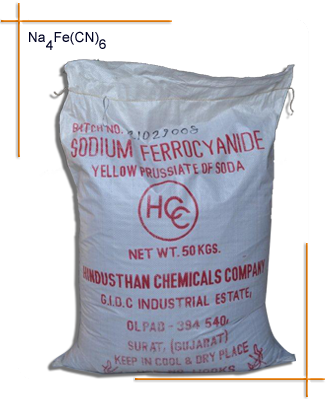 Specification
Product Name
Sodium Ferrocyanide
Sodium Ferrocyanide (Yellow Prostate of Soda )
Appearance
Light Yellow, Free Flowing Crystals
Physical Properties
Molecular Weight
484.10
Specific Gravity
1.458
Solubility
Easily soluble in water
Bulk Density
910 kg/M3 ( approx.)
Chemical Composition
Purity as Na4[ Fe(CN)6 ], 10H20
99.0% min.
Sulphate as SO4
0.10% max.
Chloride as Cl
0.30% max.
Free Moisture
0.50% max.
Matter Insoluble in Water
0.01% max.
Packing
Packing 50Kgs Net Weight in HDPE laminated bags with inner Polyliner.
SIDEBAR >