Potassium Ferrocyanide
Application
In the manufacturing of Ferricyanide, dry colors, tempering steel, dyeing, explosive, process engraving and lithography, as laboratory reagent, for the production of blue pigments (iron blues), as 'anti-caking agent' for salt (NaCl), for the precipitation of heavy metal traces (eg. Fe++ in general), for fermentation process of fruit acids (citric acid, tartaric acid etc.), for the purification of wine, for the flotation of ores, in paper industry (security paper), as corrosion inhibitor, in chemical/pharmaceutical industry and in electroplating industry.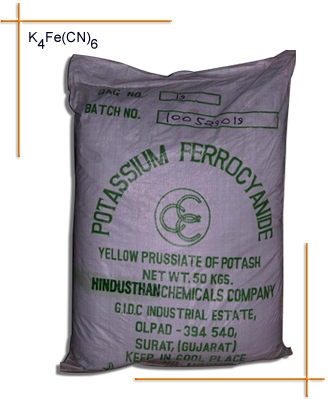 Specification
Product Name
Potassium Ferrocyanide
Appearance
Yellow Colored Free Flowing Crystals
Physical Properties
Molecular Weight:
422.39
Specific Gravity @ 17°C
1.853
Solubility
Easily soluble in water 33.7 gm in 100 gm water @ 20°C.
Bulk Density
0.9 – 1.1 gm/cc
Chemical Composition
Purity as K4[Fe ( CN)6],3H2O
99.0% min.
Free Moisture Content
0.50% max.
Chloride as Cl
0.30% max.
Sulphate as So4
0.025%.
Insoluble in Water
Traces.
Packing
Packing 50Kgs Net Weight in HDPE laminated bags with inner Polyliner.
SIDEBAR >